VIRTUAL TRAINING AT NEXT EVOLUTION
Ready to train on the go or even from the comfort of your own home? Next Evolution Martial Arts now offers Virtual Training for for the whole family! For only $99 a month, you get access to a library of classes and live weekly sessions of your favorite martial arts classes. All you have to do is fill out the form on the side of this screen, and we'll connect with you shortly!
COVID-19 may have everyone stuck at home, but that doesn't mean you and your family can't be physically fit! It can seem almost impossible to keep your household active and engaged in a healthy way, that's why we've transitioned to Virtual Training. We're excited to bring quality martial arts instruction to your living room for everyone to enjoy!
Virtual Training can help your family:
Bond in a new way!
Enjoy physical fitness in the comfort of your own home.
Try a new activity together!
Practice accountability.
It's a challenging time for us all, but we're here to prove that our community is stronger together! Social-distancing can be difficult, but your family still deserves high-quality training, personalized workouts, and professional guidance.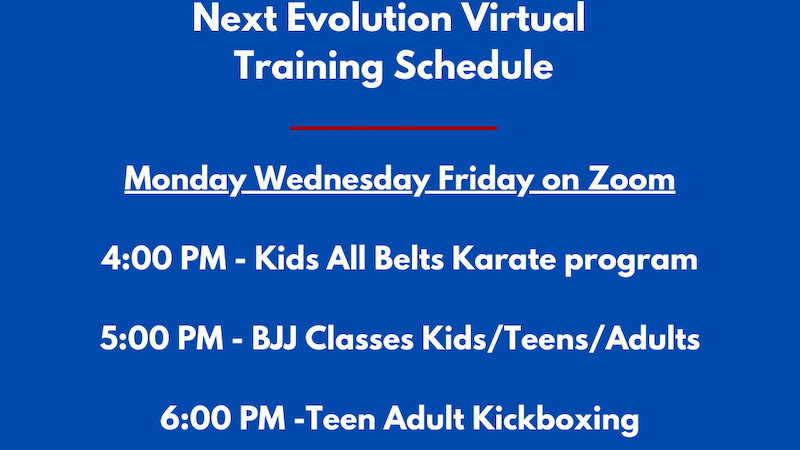 Sign Up Today And Beat Cabin Fever With The Whole Family
Join Us Online and receive FREE Kicking Pads or Jiu Jitsu Training Dummy or Standing punching bag delivered to your home. Prize will be determined and given by whichever class you join. To sign up, please email nextevolutionmma@gmail.com for more information or fill out the short form on the side of your screen. See you on ZOOM!